Get a Brighter, Whiter Smile in 1 Hour with ZOOM! Teeth Whitening
By Rajal Patel DDS — Orange, New Jersey Dentist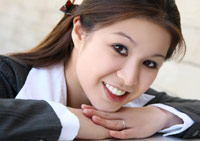 Do you want your teeth to look up to 10 shades whiter in one hour? Do you want a teeth whitening system that is fast and will last for years?
If so, ZOOM! Teeth Whitening is for you. With our ZOOM! one hour in-office whitening, you can see an average of 10 shades of whitening. It's fast, effective, and perfect for those with busy schedules. This one-time whitener will last up to 3 years.
ZOOM! Teeth Whitening offers you many unique advantages:
Fast and Convenient: The procedure can take as little time as one hour and is performed at Yogi Dental Center where you will feel comfortable in a friendly, clean environment.
Long Lasting: With the one-hour, in-house system, results can last up to 3 years.
Low Sensitivity: The sensitivity of your teeth, after the procedure, will be affected only slightly if at all.
Proven to be Safe and Effective: At Yogi Dental Center, we know the health and appearance of your smile is paramount. That is why we are so excited about Zoom! Teeth Whitening. It is safe, effective and proven to give you the results that you want.
Performed by a Dental Professional: The entire process will be explained to you prior to and during your ZOOM! Teeth Whitening by Yogi Dental Center Professional.
How ZOOM! Teeth Whitening Works:
The ZOOM! Teeth Whitening procedure is a simple and painless way to whiten your teeth in just 1 hour. It process begins with a short preparation to isolate your lips and gums. Then the proprietary ZOOM! Teeth Whitening Gel is applied, which is activated by a specially designed light. Teeth typically become at least five to eight shades whiter, sometimes more. A fluoride treatment completes the procedure. You will be amazed with the results! In most cases, your teeth will get even whiter the first few days after the procedure.