Root Canal Therapy
By Rajal Patel DDS — Orange, New Jersey Dentist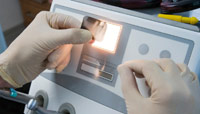 Do you want an alternative to save a tooth that will die if left alone?
If so, you may be a candidate for Root Canal Therapy at Yogi Dental Center. Our practice in Orange provides Northern New Jersey residents with exceptional Root Canal Therapy.
Root Canal Therapy offers you many unique advantages:
A root canal can be performed with little or no patient pain
It is an effective procedure to save a tooth that will die if no intervention takes place
A tooth that has had Root Canal Therapy will have no visible evidence of the therapy, giving the tooth a natural healthy appearance
How Root Canal Therapy Works
A "Root Canal" is needed when the nerve of a tooth is negatively affected by decay or infection. In order to save the tooth, the living tissue inside the tooth(called the "pulp"), nerves, bacteria, and any decay are removed and the resulting space is filled with special, medicated, dental materials, which restore the tooth to its full function.
Having a root canal done on a tooth is the treatment of choice to save a tooththat otherwise would die and have to be removed. Many patients believe that removing a tooth that has problems is the solution, but what is not realized is that extracting (pulling) a tooth will ultimately be more costly and cause significant problems for adjacent teeth.
Root canal treatment is highly successful procedure although on occasion, a tooth will have to be retreated due to new infections.