Oral Cancer Screening — Prevention & Early Detection
By Rajal Patel DDS — Orange, New Jersey Dentist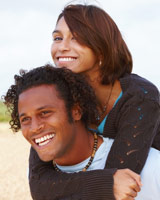 Are you at risk for oral cancer? Are you looking for a painless and fast way to screen for oral cancer so you can get treatment early?
If so, you may be a candidate for OralID, an oral cancer screening tool. The OralID exam can help us identify abnormal tissue that might develop into oral cancer.
How Oral Cancer Screening Works
Oral cancer is one of the most curable diseases when it's caught at early stages. That's why the OralID oral cancer screening exam has been developed. An annual OralID exam, in combination with a regular visual examination, provides a comprehensive oral screening procedure for you. The OralID exam is fast and painless, and could help save your life.
OralID uses technology that has proven successful in identifying soft tissue abnormalities in various areas of the body. A OralID exam is particularly important if you are at increased risk for developing oral cancer.
OralID is performed immediately following a regular visual examination
First, you will be instructed to rinse with a cleansing solution.
Next, the overhead lighting will be dimmed.
Then, your dental professional will examine your mouth using OralID, a specially designed fluorescent light technology.