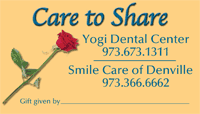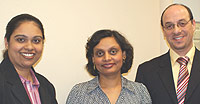 Yogi Dental Center
30 Scotland Road
Orange, NJ 07050
973-673-1311
Smile Care of Denville
9 Mount Pleasant Turnpike, Suite 203
Denville, NJ 07834
973-366-6662
Site Map for www.YogiDental.com
For Dr. Rajal Patel's Orange, New Jersey Cosmetic Dentistry
To go to any page of our website, click on the links below:
HOME: Dr. Rajal Patel — Orange, New Jersey Dentist
Schedule your appointment by calling
973-673-1311
or fill out the form below. If you have any specific questions about our
New Jersey Dentist Services
call us at 973-673-1311.
Yogi Dental Center
30 Scotland Road
Orange, NJ 07050
and
Smile Care of Denville
9 Mount Pleasant Turnpike, Suite 203
Denville, NJ 07834
973-673-1311


Preventive Care Dentistry
Preventive dental care is the foundation of having a lifetime of good dental health. Our preventative services include » Teeth Cleaning & Cavity Prevention • Dental Exams • Dental X-Rays • Fluoride Treatments • Oral Cancer Screening.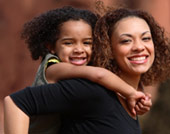 Testimonials
"Yogi Dental services are simply exceptionally superb. I am leaving with a beautiful smile." — HB
"Thank You Dr. Patel and your staff for a wonderful job. I am pain free and confident when I smile." — SM » more.